News stories frequently suggest that prescription drug costs are "skyrocketing." But the reality that's reflected across the country is quite different than the one portrayed in most media reports, which typically focus on isolated examples.
In fact, prescription drugs costs — both the prices for drugs and how much money society spends on medicines — have been remarkably stable in recent years. Starting with spending on prescription drugs:
According to the Centers for Medicare & Medicaid Services or CMS, national spending on retail prescription drugs grew just 0.4% percent in 2017. The growth in drug spending was slower than the spending growth for hospital services (4.6%), physician services (4.2%) and overall health care expenditures (3.8%).i
IQVIA — a nonpartisan health care data analytics firm— reports that national spending on all prescription drugs increased less than 1 percent in 2017. Additionally, they note that spending on retail and mail-order pharmacies decreased by 2.1 percent.ii
A similar trend exists when it comes drug prices.
The same report by IQVIA found that the average net price for brand-name drugs grew less than 2 percent in 2017. The net price is after factoring in discounts and rebates offered by drugmakers, which in 2017, reached an estimated $153 billion.iii
The data clearly show that the trend on prescription drug costs is not as dire as some argue. This positive trend also been reaffirmed by pharmacy benefits managers (PBMs). These drug cost middlemen manage drug benefits on behalf of health plans, and some of the nation's leading PBMs have reported very little change in drug prices for commercial health plans in 2017.iv
One of the largest PBMs—Express Scripts—recently reported that net drug prices dropped by 0.4% in 2018 for the commercial health plans it services. Express Scripts also announced the drug prices for the Medicare plans it services declined by 1.4% last year.v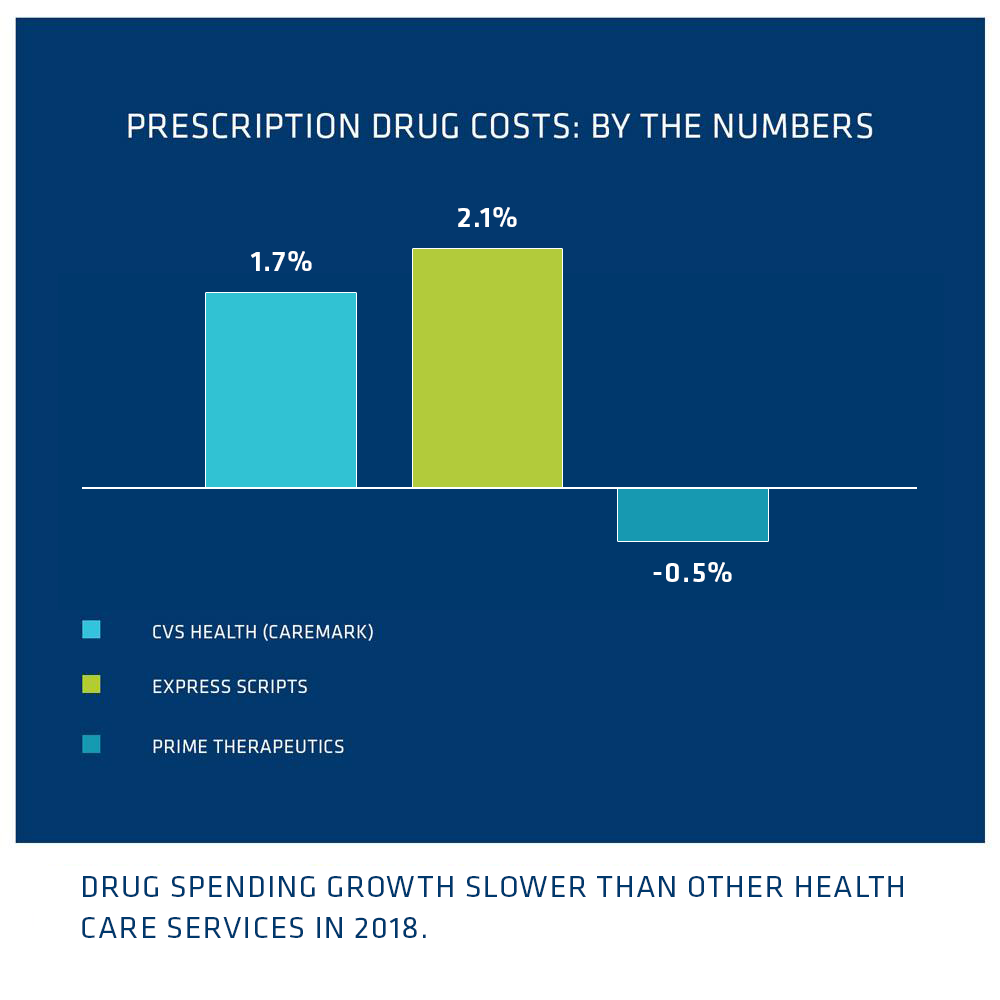 Where are most health care dollars spent?
Hospitals are by far the largest single share, at about 30 percent of all U.S. healthcare spending, or more than $1 trillion annually. Physicians and clinical services are another 18 percent, while other services (such as home health care and nursing care facilities) together make up just over a third of all health care spending.
On the other hand, prescription medicines comprise just 14 percent of all health care spending,vi which is roughly the same share as in 1960. That is a remarkable fact considering that more than 450 new medicines have been brought to market over the past 15 years.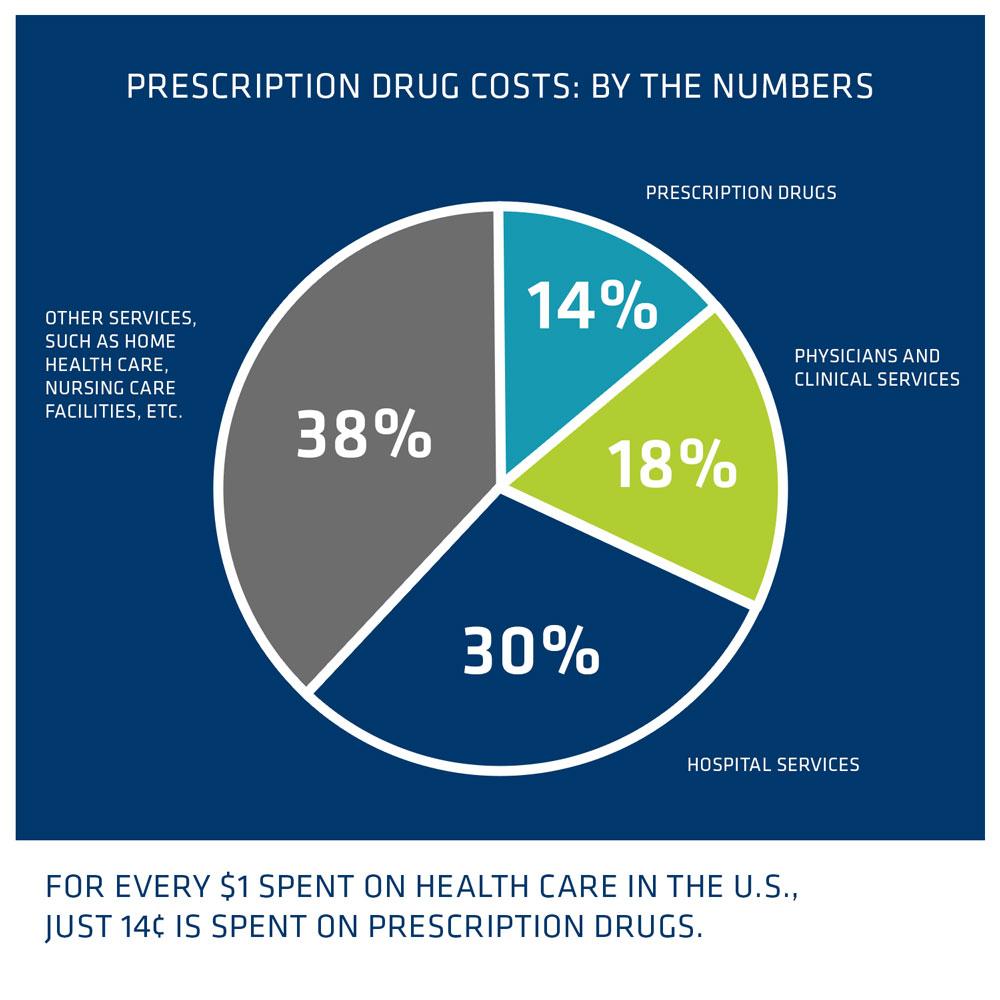 The modest share of spending on prescriptions holds true even in very costly to treat conditions. A report on cancer care, for example, found that prescriptions accounted for just 12 percent of overall health costs for cancer in 2014, while hospital inpatient stays account for 27 percent, and hospital outpatient or office-based provider visits comprise 58 percent.vii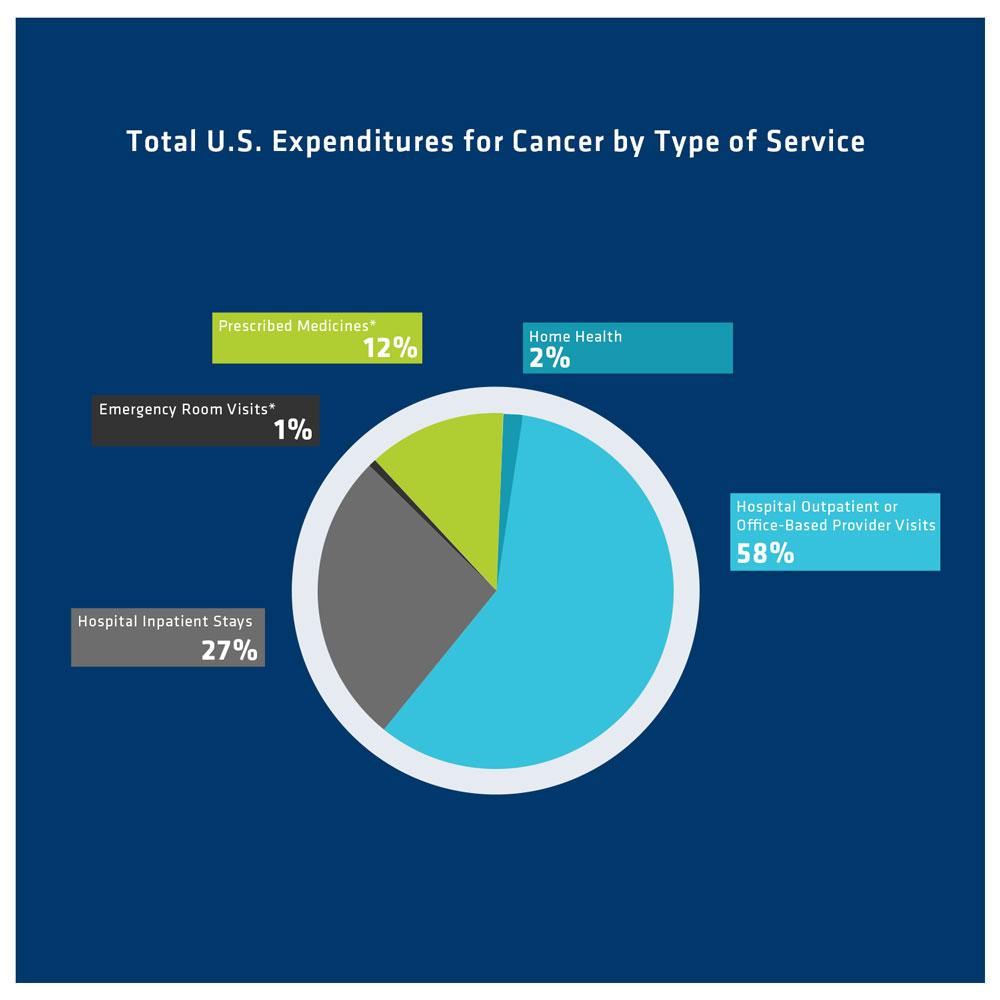 As we look for ways to make health care more affordable, it is also important to consider what are the driving forces behind future health care spending. The answer is both payments to doctors and hospitals, which are expected to grow by a combined $1.1 trillion over the next debate.viii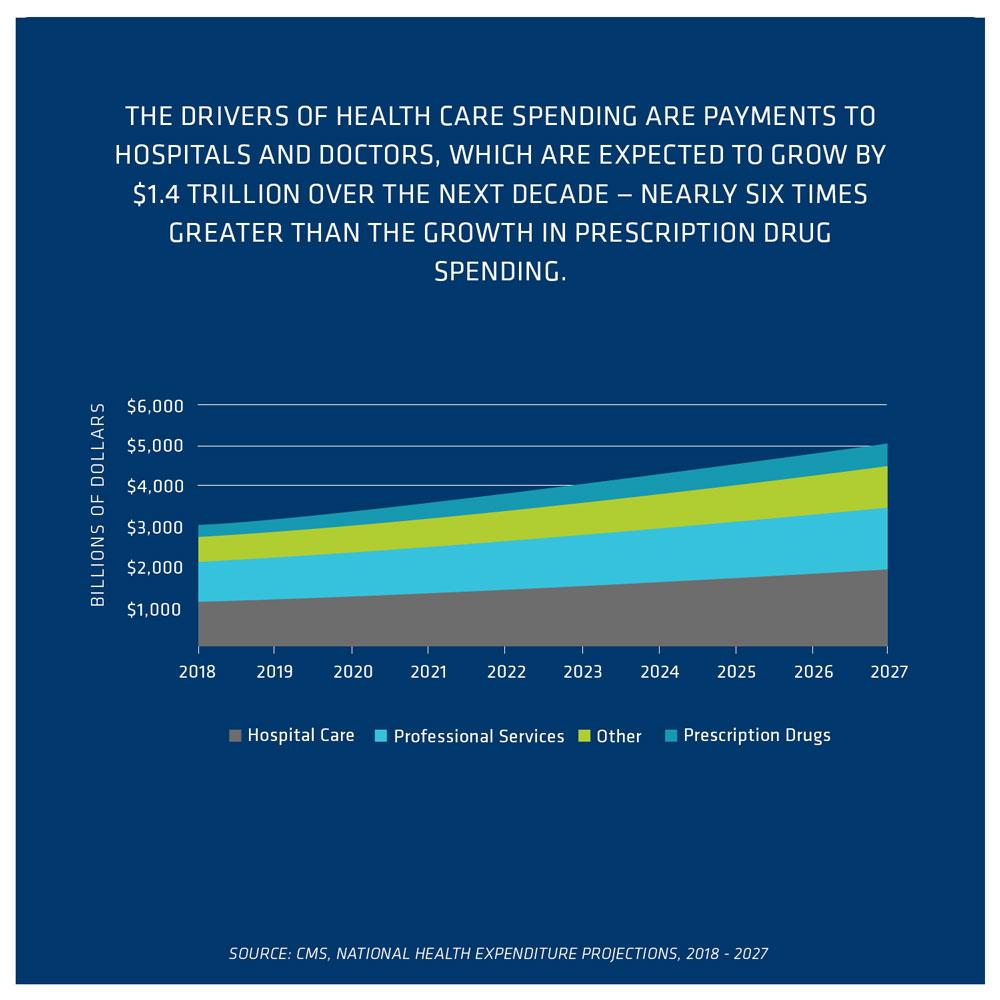 How does U.S. spending on drugs compare to other developed countries?
Quite favorably. According to OECD statistics, U.S. spending on prescription drugs is very similar to countries like Germany, France and Canada.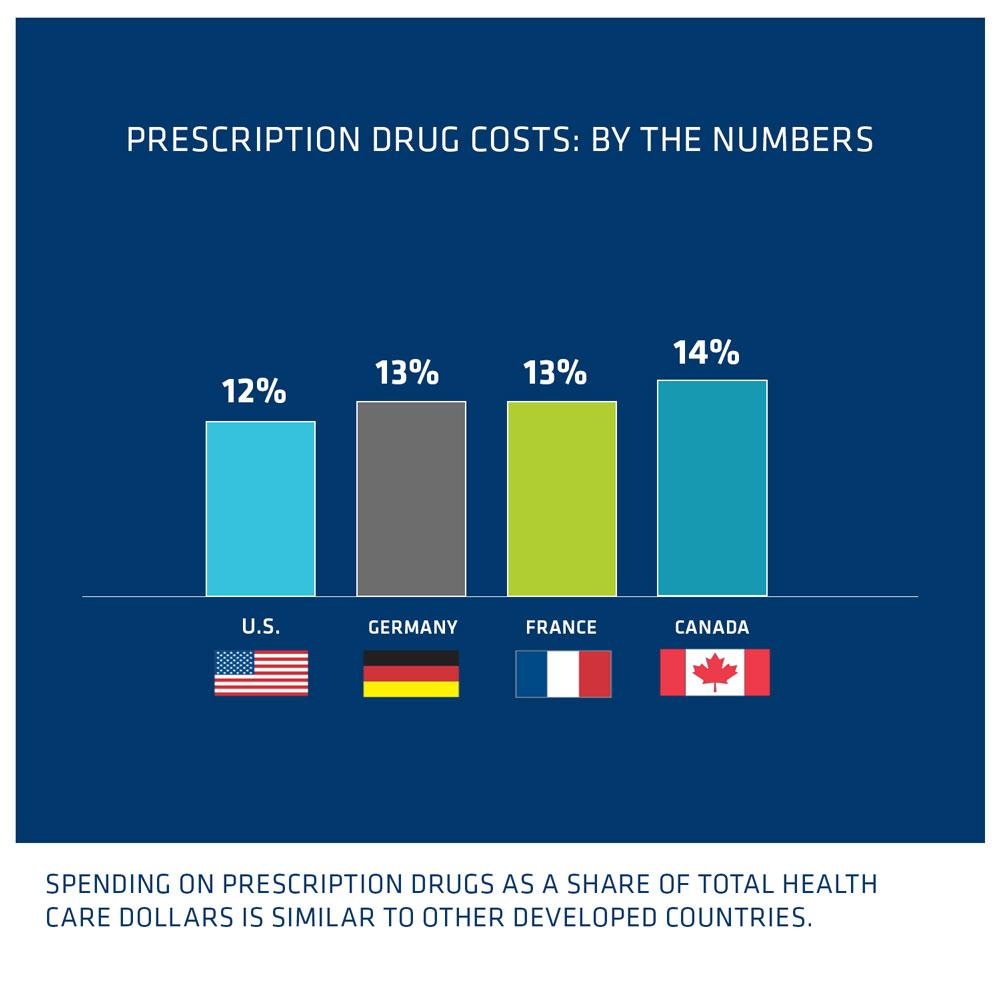 What we in the U.S. spend on medicines is not high or unsustainable, and there is value in greater use of biopharmaceuticals instead of more expensive health care services such as hospital stays, surgeries and nursing homes. A smarter health care system would increase the use of cost-effective biopharmaceuticals, not seek to constrain or ration it.
Additional Reading & Resources
References